About 10 years ago, I wrote Alternate Universe MUD, a free text-based online adventure game, with a space-theme and an emphasis on exploration and discovery.
Note
: for younger/less geeky readers, a MUD is a
Multi User Dungeon
, i.e. a game that you could play (with other people, no less!), which often revolved around dungeons, monsters and combat. Massively Multiplayer Online Role-Playing Games (MMORPGs) like World of Warcraft can trace their history back to these kinds of games.
The game features spaceships, several worlds, an astronomical observatory, mudmail and mud-wide-web terminals, a stock market, various robots and even an auditorium where Shakespeare's plays are performed by bots every few hours.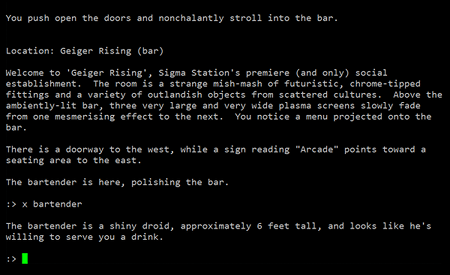 Over 2000 players discovered Alternate Universe over the first few years (not bad for something that started out just as an experiment). Most players just played, but others contributed code, some helped build the world from the inside and one even ran an in-game monthly newspaper. I ended up meeting some of them in real life too, as a result of all this.
The game server itself was written from scratch in Java and has had many homes, but thanks to Oracle's release of Java 8 for ARM in December, it now runs on a Raspberry Pi (and it runs happily too, using less than a third of the 512MB of memory – AU was mostly written on a 400MHz HP laptop with half the CPU speed that the Pi has now, so I'm not that surprised).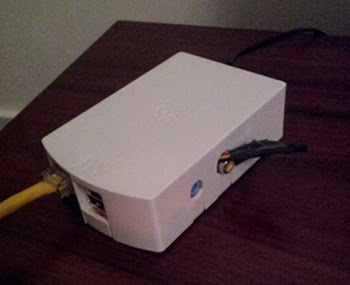 (the black thing poking out by the yellow S-Video socket is an external temperature sensor – I hope to wire this up to the MUD, so that the external temperature drives some behaviour or description inside the game)
Play!
To play Alternate Universe, go to the command-line and type
telnet alternateuniverse.dyndns.org 1063
If you are playing from another Pi, you may first need to install the 'telnet' program:
sudo apt-get install telnet
I hope you have fun playing. Drop me a MUD-mail if you enjoy the game!