It turns out that there is a woeful lack of local astronaut training facilities, so I built my daughters a toy spaceship for Christmas: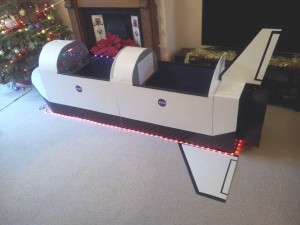 This is the first bit of real woodwork that I've attempted since I was about 8 (when my Dad showed me how to hold a hammer) and I'm pleased with how it turned out. It took around 10 weeks of long evenings (and some weekend time), plus another 75 hours of programming time (during my daily commute). The project was partly inspired by Jeff Highsmith's excellent Kids Room Spacecraft in MAKE magazine, and was initially fuelled by an unexpectedly strong coffee from a Shoreditch Baristas leading to some midnight sketching.
There's a functional control panel, with sound effects, a countdown timer and various lights (powered by a Raspberry Pi and an Arduino Mega). The 'Auto Launch' button triggers a countdown and 2-minute launch to space (with sounds from Apollo 11). My 4-year old's favourite is the 'Waste Dump' switch, which plays a loud toilet flush, just like Jeff's spacecraft for MAKE. Amongst other things, there is also a 'Make Tea' switch (well, this is a British invention..)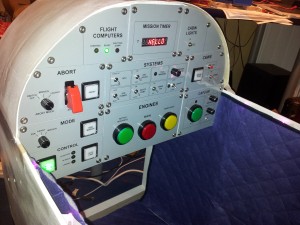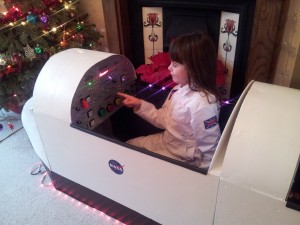 The second cockpit currently has a blank control panel for now, so that my daughters can suggest ideas for it. On the list so far are: a navigation computer, docking controls and a button to play twinkle-twinkle-little-star.
The structure is made out of plywood from scratch, painted with a couple of coats of primer then sprayed with satin white to give a slightly glossy finish. The interior is padded with blue panels cut from pet car protection blankets, velcro'd to the wood. The spacecraft consists of the nose, tail, and two 'crew modules' which are held together with more velcro – they can be detached to fit precisely at the ends of my daughter's beds for storage.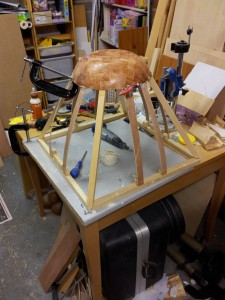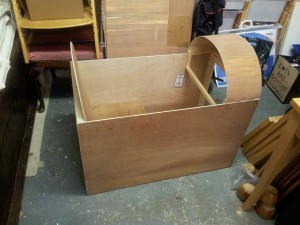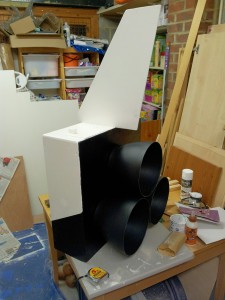 Everything had been done in secret, in the garage, so when my daughters opened their last presents on Christmas Day (white cotton overalls, with ironed-on NASA patches, Union Jack flags and velcro-d on name tags) and went upstairs to change into them, my wife and I hastily brought the spaceship into the lounge, set it up and then called them downstairs: there was total confusion for a few seconds – before excitement took over – and then they climbed in to begin their first mission.
I can't wait to show them how to hold a hammer.

2 Responses to "Project X: British Man Builds Secret Toy Spaceship in Garage"